Jump into the Experience of a Lifetime in Mason County
Friday, March 05, 2021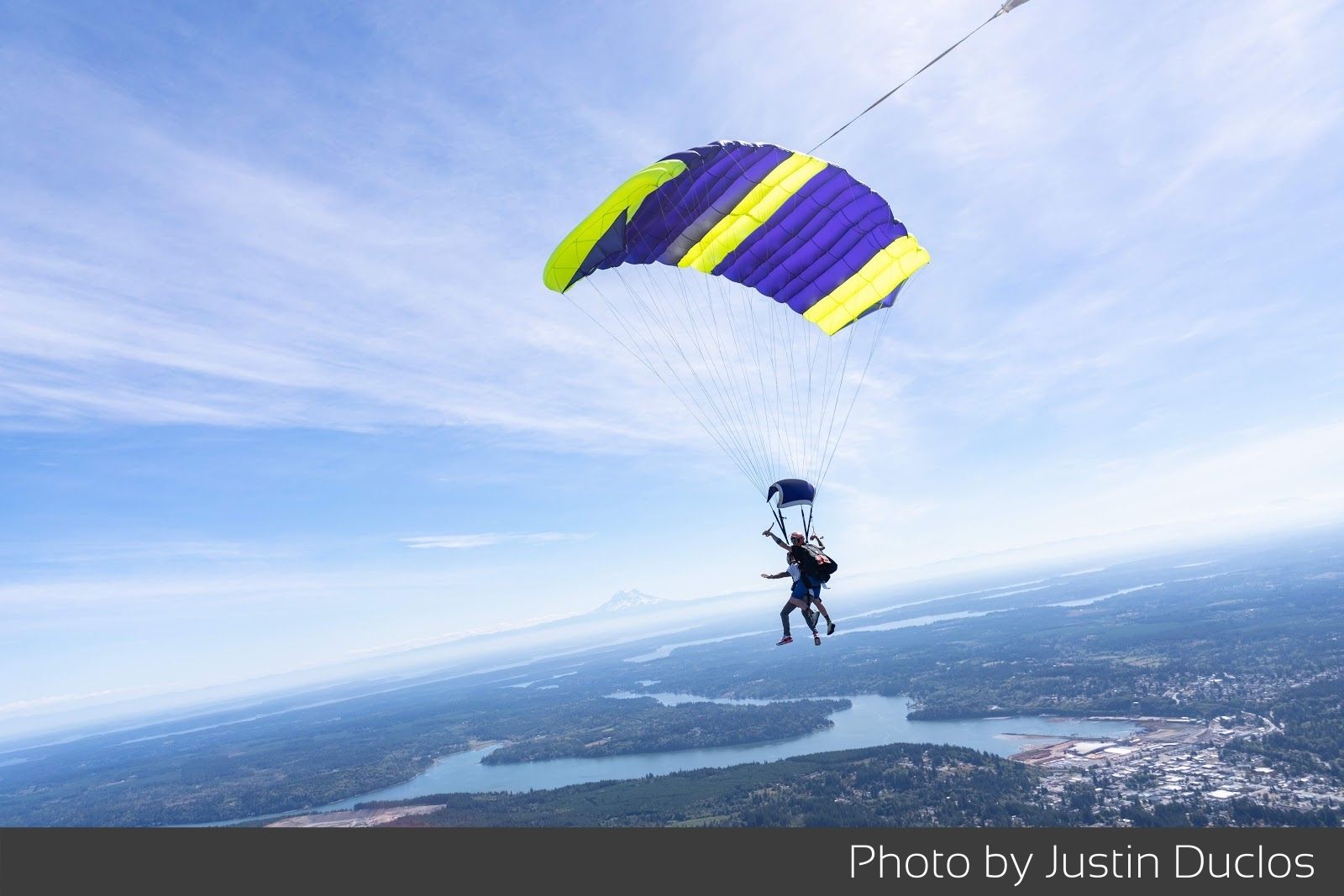 The goal of skydiving is fairly straightforward: jump from an airplane and experience the rush of the wind falling through the air at 120 mph before opening the parachute and landing safely back to earth. But the unique adventure can lead to so much more than just taking that leap of faith.
"After 50 years of skydiving, it is really awesome to think about all the opportunities I had to meet people from all over the world," said Jeff Farrington, owner of Skydive Kapowsin in Shelton, Washington. "Traveling all over the world while jumping with my family has been an unbelievable experience."
Family Business
From Sanderson Field in Shelton, Skydive Kapowsin, provides tandem skydives, accelerated freefall training and a location for skydivers to enjoy the company of others with similar interest and advance their skills in all areas of skydiving.
Farrington and his wife Jessie founded the company in the 1970's, operating out of Thun Field at the Pierce County Airport, south of Tacoma. As the business grew, they built a residential airport on 200 acres in nearby Kapowsin. Jessie's father was a WWII fighter pilot and skydiving was a way for him to continue in aviation.
"He was an integral part of guiding us along in our business," Farrington said. "He kept jumping until he was 85 years old."
They moved to their current location at Sanderson Field in Shelton in 2005, where, by 2020, they have provided 321,437 jumps!
"We grew out of that residential air park, which is not the greatest setup to run a business," said Farrinton. "Shelton and the airport were glad to have us, as it was underused, and it gave us room to grow."
Today, they have aircraft that can easily put up 600 jumpers per day with their grown children, Andy Farrington and Keri Bell, running the business. Jeff and Jessie still help with items like overseeing the maintenance on all their airplanes.
"Andy and my nephew Luke have logged around 27,000 jumps each, which puts them in rare company that very few people in the world can compare to,'' said Farrington.
Unique Clientele
That experience lends to drawing in a quite extensive clientele list. They primarily draw West Coast customers from Portland up to Vancouver, British Columbia, but their close proximity to the Seattle Tacoma International Airport brings in clients seeking their expertise from around the world.
Farrington has traveled to locations like South Africa and Thailand, where he and his family participated in a World Record for Free Fall Formation in 1999, with a total of 382 jumpers participating.
"Last summer, we had a skydiver from Dubai spend three months with us, making almost 1,000 jumps in that time frame," said Farrington. "People come from Europe because it is less expensive and easier to get more jumps than in their home countries."
In 2020, the illusionist Davd Blaine floated nearly 25,000 feet holding into 50 helium balloons in a stunt titled Ascension, before skydiving back to earth. Blaine trained for the event at Kapowsin under the supervision and mentorship of Luke Aikins.
Beautiful Mason County
Farrington said their location in Shelton offers a fantastic, unique experience for skydivers. Clear days offer spectacular views of seven snow-covered mountains, Puget Sound, Hood Canal and the Pacific Ocean.
"Back in 1980, when Mt. St. Helens erupted, due to the wind direction, we were jumping and watching that monumental event," he said.
Admiring that beauty may be difficult for most new tandem students on their first jumps, admitted Farrington.
"People can be a bit overwhelmed with the jump experience that first time," he said. "A few say 'once is enough' but many come back and join the world of skydiving because it is a sport that you can enjoy most of your life."
Now, despite COVID-19, Farrington says they are looking forward to the future. The pandemic caused them to close for three months, while maintaining some income as military personnel from the Joint Base Lewis-McChord outside Tacoma utilized their facilities for training. They are open now, welcoming customers back with reduced capacities in their aircraft and hangar, as general overall travel restrictions slow business down.
"Hopefully, COVID-19 restrictions will ease some as we get closer to our peak season," Farrington said. "Like so many other businesses, we are ready to get back to business as usual."