More than just a pretty place – Mason County offers great quality of life
Monday, June 21, 2021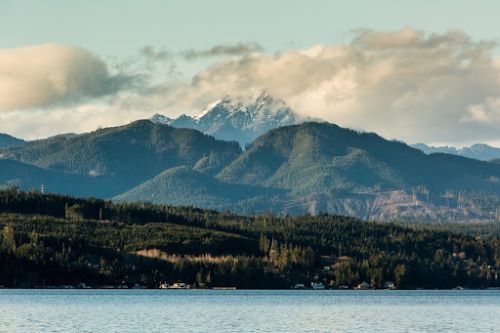 "Each season brings new wonders around here," remarked tourism coordinator for Mason County, Rachel Hansen, "when we first moved here in 2002 it was just to land in a place where we could have saltwater frontage that we could afford. We never imagined how much we would come to love the surrounding wilderness, the rural communities, and ultimately – the people that have generational roots deep in Mason County."
Mason County sits at the southeastern side of the Olympic National Forest, northwest of Olympia and just across Puget Sound from Seattle and Tacoma. The natural beauty within extends from the tidal shores of the Hood Canal to the rainforest of the Olympic Peninsula.
Hansen first visited the area in 2001 with the intent of finding an on-airport site for an aviation conference she coordinates at the Washington State Fairgrounds in Puyallup, WA. Rachel was taken by how pristine the area was despite its close proximity to major thoroughfares connecting Olympia, Bremerton, Seattle, and even Portland via I-5. Rachel and her husband, John, an airplane pilot, toured the Port of Shelton property and although the airport fit the fly-in specifications, they were unable to accommodate the indoor conference seminars. Despite this, they were awed by the expansive view of the Olympics and the many recreational opportunities – an image that stuck with them until they were able to find a home on Puget Sound's Hammersley Inlet the following year.
"It's a great place to raise kids," said Rachel, "our kids learnt how to raise oysters, chickens, alpacas, trout, run boats, sail, scuba dive, ride horses and even cut lumber and operate heavy equipment. If we'd stayed in the suburbs of Seattle, they would never have had access to all those experiences."
Trained as a graphic designer, Hansen found her strength lay in assisting organizations with marketing. Websites, newsletters, and logos eventually evolved into full-blown marketing campaigns and event magazines.
"One of my favorite clients was the Mason County Fair," Hansen reminisced, "they first hired me for $100 to design the annual logo. By the end of the fair season we had rebuilt the website, designed posters, flyers, inserts, ads, and my kids had joined 4-H and were showing chickens!" The Hansens got so involved in the fair and rodeo that when the County was forced to abandon support for the event in 2009 after over 100 years, the family took over operation until 2012. "We met so many wonderful people that are still lifelong friends. It was a challenge – but again – a great opportunity for our kids to understand the importance of community. Mason County is one of those rural settings where when you need your neighbors they come together in a force and lift you up. That's pretty hard to find these days."
Along with the annual aviation conference in Puyallup, Hansen found her niche in event organization and marketing. With a partiality towards print, she established annual programs for OysterFest and Mason County Forest Festival, committing to a quarterly lifestyle publication, Tracing the Fjord, in 2017.
"There are so many great stories here," said Rachel, "the Fjord magazine is an opportunity to share the other side, not just the natural beauty in pictures but also the history and the passion and drive of our pioneers — many whose descendants still live here. We just finished our 17th issue – with 64 pages – it's amazing that there is still so much to tell!"
The Tracing the Fjord magazine covers South Puget Sound and Hood Canal – the only natural saltwater fjord in the lower 48 states. With 10,000 issues printed quarterly and 125 distribution locations including the WA State Ferries, the magazine has recently outpaced its print run in digital downloads. "When I first saw those stats last December after our Christmastown event," grinned Rachel, "I was so excited. So many people say that print is dying or dead. It's gratifying to be able to offer my magazine advertisers the best of both worlds - digital and print!"
Rachel's work with the Fjord led her to pursuing another contract with Mason County. This time not to advertise rodeos and elephant ears – but to promote tourism in the whole area.
"Best job ever," smiled Rachel, "I get to be creative, help local businesses and meet people all day who are just as excited about Hood Canal and South Puget Sound as I am. When the orcas go down our inlet or make an appearance on Hood Canal at Hama Hama's Oysterrama – it's like Christmas. We are all so excited. Oysters, hikes, Roosevelt elk, waterfalls, unique events, live music, kayaking – there is so much to share!"
And share she does. Hansen and her team daily maintain the go-to site for locals and tourists – explorehoodcanal.com and operate the Explore Hood Canal Facebook page with over 45,000 active users.
Mason County's Hood Canal is adjacent to the Staircase Entrance to Olympic National Park, and is much less populated compared to the other entrances, yet still offers immediate access to hiking, fishing and more. For those seeking man made activities, the Ridge Motorsports Park near Shelton offers a range of racing activities and nearby Kapowsin skydiving offers a birds-eye adrenaline rush over the mountains and waterways.
"2020 was a busy year for the County tourism site," remarked Rachel, "with over 160,000 visitors, it was up 45% from the previous year. We worked with our writers to create inspirational content to get everyone through a really long year. With Lodging Tax revenues up already over 70% by this May, we are hoping that translates to quality guests who will visit for the unique assets that set Mason County apart from average tourism destinations."
In December of last year Hansen's company, NW Event Organizers, teamed up with local non-profits to host a 12 day outdoor Christmas event following COVID protocols to build on national recognition that Mason County had received for successfully earning a Guinness World Record for "most lit Christmas Trees in one location" in 2019. "It felt important to not lose that momentum," she adds, " Shelton is historically known as Christmastown USA for their Christmas tree production. This notoriety is a "built in'' tourism asset. Despite the restrictions, we were able to modify the traditional events to provide safe activities for local and visiting families throughout the season."
This summer, NW Event Organizers is partnering with Mason County Forest Festival to offer a series of community events celebrating Mason County's rich timber heritage. Dubbed "Timber Days," these events are scheduled to happen once a month through August until the traditional Paul Bunyan Grand Parade on September 18.
"We wanted to keep the event in place of mind despite its postponement and give occasions of our Forest Festival court to participate. In July we are hosting a Royalty Tea in the Colonial House garden where the Queen and her court can mingle with future Paul Bunyans and princesses. Our first Timber Days event was on June 4/5, the traditional dates for the Forest Festival. We were uncertain how the community would react as COVID restrictions are just now beginning to lift – but it was amazing. The atmosphere was fantastic. Everyone loved the live music and the Illuminated Lantern Parade on Saturday night had over 300 kids walking down Railroad Ave. In August we will celebrate Smokey the Bear's birthday to raise awareness about fire safety."
Hansen's current project is the Wild Side Guide, a concierge handbook to be used by local businesses and tourism operators. The 75+ page plus binder includes area information on mylar insert pages, complete with trackable QR codes, allowing it to be updated and searched instantly. The guide will also be available via QR code in guest rooms throughout the County. Along with 50 book locations, Mason County Tourism is designating up to 18 "advocate" locations which will receive additional training and marketing materials and extend the outreach and hours of tourism information for visitors. Ultimately this program will allow for a Welcome Center location that will provide concierge services as well as event hosting and coordination and rotating museum exhibits showcasing the assets of the area from aquaculture to timber rails and the mosquito fleet steamships.
"We want to create a connection for visitors to come see it for themselves while helping the community to be proud of what they have here," added Rachel, "this area has so much to offer not just in natural beauty and outdoor activities – and sustainable tourism managed responsibly is a renewable resource that benefits every aspect of our community well-being."